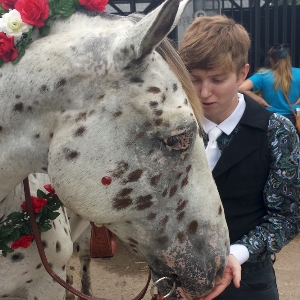 My name is Bron Stark and I am ASHDA's Registrar and Webmaster. Since ASHDA's inception, I have worked to help move the breed forward in every way that I can. From showing and promoting my own ASHDA horses and those of others to late nights writing new programs and policies to help the registry, I've done a little bit of everything over the years. I have been riding and showing for over 25 years and became involved in the breeding of my family's Appaloosa horse program when I was just a kid. Over the years, I've been involved in just about every area of the horse industry. I have raised, trained, shown, bred, and promoted my own horses, served as a Youth ApHC Director, done PR and paperwork for several organizations and more. When it came time to help create ASHDA, I knew we only had one shot to do it right! And what a rewarding experience it has been these last few years!
My own experiences in ASHDA have been unlike any other horse organization I have ever been a member of. The community is very welcoming and supportive, and open to advances in science, training, ethics, and marketing like many breeds are not. Because of this willingness to embrace the new, ASHDA has come farther faster than anyone ever dreamed it could. From 12 horses in 2012 to over 100 in 2019 is an amazing accomplishment, especially considering the strict genetic testing and conformational requirements we place on outside horses applying to us. When I see the amazing foal crops each year and ASHDA horses bringing home accolades left and right, I know I am a part of something extraordinary.
My hope is to continue serving the best interests of the breed as a whole. My own personal program has produced some ASHDA foals I am very proud of, and I am always looking to improve even more. I am hoping to contribute more programs that will help the breed and the community alongside existing programs that have been my brainchildren such as the Ambassador Program, Video Futurity, Virtual Shows, and more!
If you are looking to buy, breed, or register a horse with ASHDA, we'll cross paths at some point and I'll be very glad to meet you!