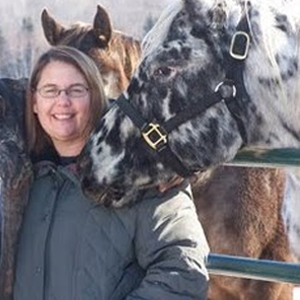 Hello all from beautiful Wisconsin!
I'm hoping I will do the ASHDA association proud now that I have been appointed President.
A little about me, I have loved horses since I saw my first one at 2 years old. I, along with my trainer, show at halter and Showmanship in the ASHDA video and photo shows and also show Appaloosas. I have had horses for 45 years and started showing in 2002 with ApHC. With many wins under our belt and even a few from the World Appaloosa Show, I'm hoping to bring my knowledge to this Association.
My husband and I own Boisvert Farms in west central Wisconsin, a breeding, boarding and training facility. I have had a love of the ASHDA horses since stumbling on them when doing a web search of the Appaloosa/Percheron cross and finding Mike Muir's website on the Stonewall Stud Book. I am in the journey of fulfilling my dreams of breeding and raising them. I own ASHDA mares, an almost 4 year old beautiful leopard ASHDA registered stallion, an ASHDA Approved cross stallion that is also registered ApHC and IPSHR to name a few. We produced four foals in 2019 and are breeding more for the future! We are slowly building a nice herd. If anyone has any questions or comments, I can always be reached via phone or email.