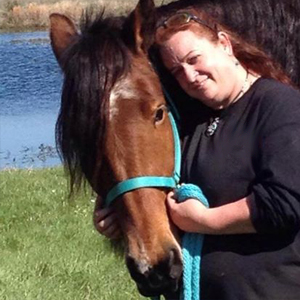 Hello horse enthusiasts! I am Stephanie R. Adame, PR director of the American Sugarbush Harlequin Draft Association. This organization was put together by several other like-minded people that wanted to preserve and breed forward the Sugarbush Harlequin Draft horse, as envisioned by Everett Smith. It is our goal to preserve the bloodlines he started and to expand the registry into a viable Association, with a show system, member benefits and public awareness. To this end we've come together, along with the lovely horses that make up the breed, and we formed an association for people interested in the American Sugarbush Harlequin Draft horse. I hope you'll join us and experience the wonderful breed we represent, and the family atmosphere we promote. Sugarbush Harlequin Draft horses are sweet enough for the whole family!
I am very excited and proud to be the P and R director and could not ask for a better group of board members to work with. Everyone has put a tremendous amount of effort into getting the Association up and running and I thank them for it.
A little about me, I've had horses almost all of my life. I started riding at a very young age. Through out my childhood, I got to experience different disciplines, showing in English Equitation, Hunter Jumper, Saddle Seat and Western Pleasure and playdays. I also enjoyed trail riding, parades and anything that involved time spent with horses. I've owned several breeds over the last 42 years including a Welsh Ponies, Quarter Horses, Paints, a Peruvian Horse as well as my current herd of 3 Sugarbush Harlequin Drafts, consisting of two mares, and founding line stallion, He'za Big O Texas Star, descended from Mr. Smith's original lines. I first became interested in draft horses in 2008 and was blessed with the opportunity in 2010 to purchase my first draft. That horse, Classic Dark Godiva, put me on a path that would forever change my life. Shortly after I purchased her, I was introduced to the Sugarbush Harlequin Draft and was smitten. I was overjoyed when Godiva was approved to be a part of the program to help revive this wonderful rare breed. It became my passion and goal to see to it that this breed come back from the brink of vanishing and play a role in their comeback. In 2013, that goal came to life with the birth of my Sugarbush Harelquin draft colt, He'za Big O Texas Star, aka Roo. She has since gone on to produce more foals to help further the efforts to help build the breed back up.
My ASHDA horses have been shown under saddle as well as in halter. To date, Roo has brought home 4 ASHDA Championship titles. I have also taken my ASHDA horses to local play days and done speed events such as poles, flags and barrels. Mostly, I enjoy trail riding and quality time spent with my beloved Sugarbush Harlequin Drafts. I worked 25 years in the small animal medical field, as well as pet grooming, and am now happily retired from working outside the home. My husband and I have a small farm south of Fort Worth Texas with our horses, dogs, cats and a Pot Belly pig. Although he is not active with the horses, he does help me with them and he fully supports my dreams and goals to see this wonderful rare breed make a strong comeback.
My goals as PR Director are to help this breed grow, both in numbers and public awareness. There are so many disciplines where this wonderful breed will excel. As competitors they are level headed and powerful, as companions they are gentle and trustworthy and as eye-catching and uniquely marked horses they have a high market value. The American Sugarbush Harlequin Draft is, like the country where it was born, full of opportunities.