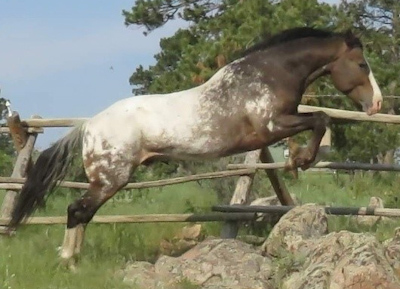 RTD's FirstBornUnicorn
| | |
| --- | --- |
| Reg #: | H*00007 |
| Sire: | Rorschach's Hextatic (ASHDA) |
| Dam: | Rockin Mighty Belle (ASHDA) |
| Genetic Testing: | PSSM1 - N/N, GBED - N/N, HYPP - N/N, MH - N/N, JEB1- N/N, HERDA - N/N, IMM - N/N |
| Stud Fee: | $400 USD |
| Location: | Livermore, CO |
| Contact: | Dragon Feather Farm by E-mail or Facebook |
Description
RTDs FirstBornUnicorn is sired by ASHDA Hall of Fame stallion Rorschach's Hextatic and out of multi-champion titled mare Rockin' Mighty Belle. DNA tested clear of IMM, PSSM, HYPP, HERDA, GBED, MH, and JEB1. Color tested Ee Aa LP/lp n/W20.
RTDs FirstBornUnicorn stands at 16.3hh after a fresh trim. RTDs FirstBornUnicorn's puppy dog personality and easy-going nature is something we expect he will pass onto his foals along with his excellent conformation and brains. This stallion is showing promise in various disciplines such as English, western, driving, and medieval games. His gaits are large and thorough, yet smooth as silk like his sire. His loud LP pattern is just the icing on the cake and catches the eyes of judges regardless of the ring he's shown in.
RTDs FirstBornUnicorn has placed well both in in-person show rings as well as in the virtual show rings. Achievements include:
- 2021 Virtual Draft Horse Show ASHDA Champion
- 2020 Virtual Draft Horse Show ASHDA Champion
- 2018 ASHDA Photo Show 1st in heritage stallions and liberty
- 2017 ASHDA Heritage Homegrown Champion
- 2017 ASHDA Heritage Res Champion In Hand
- 2016 ASHDA Heritage Futurity 1st In Hand and At Liberty
Take this opportunity to tailor your foal to the discipline of your choice by using Tink as your next stud, from heavy to light mares. Tink's warmblood build allows for a wide range of versatility. Currently free jumping 3ft, we can easily see him sire your next the hunter/Jumper or eventing prospect. With his bone and incredible and honest work ethic, we can also see his foals in any western or under harness rings.
Approved ASHDA mares with draft percentage of 55.25 or more draft will have foals qualified for Main Book registration. All other foals will qualify for ASHDA heritage and may qualify for registration with Stonewall Stud as RTDs FirstBornUnicorn is registered. Mare must be genetically clean and have a clean uterine culture.
For interest in using Tink as your next foal's sire, you can contact us via Facebook at Dragon Feather Farm or RTDs FirstbornUnicorn.
Ad expires 01/01/2024