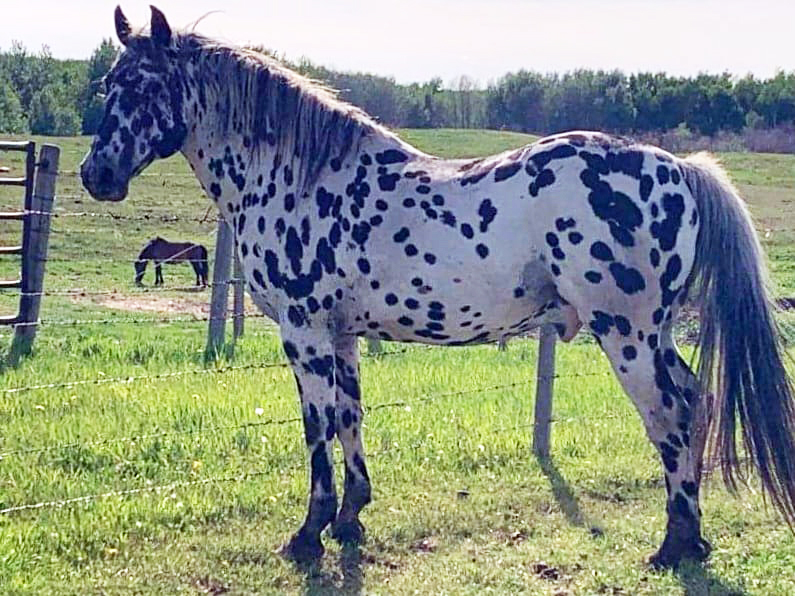 Wakons Snow Leopard
| | |
| --- | --- |
| Registries: | ApHC, ASHDA Approved Sire |
| Sire: | Still Max (ApHC) |
| Dam: | Wakons Lacybritches (ApHC) |
| Genetic Testing: | PSSM1 - N/N, GBED - N/N, HYPP - N/N, MH - N/N, HERDA - N/N, IMM - N/N |
| Stud Fee: | $510 USD |
| Location: | Kamloops, BC (Canada) |
| Contact: | Judy Kelly by E-mail |
Description
Introducing Wakons Snow Leopard stallion, foaled in 2002. Snow is ASHDA, ApHc, FAHR and ICAA registered. Wakons Snow Leopard is 97% foundation bred Appaloosa. He is a rugged built handsome stallion with great bone, excellent conformation, a gentleman with respectful ground manners, a gentle eye, calm disposition with an old soul. Snow is a true non fading perfect loud Black Leopard standing at 15.1HH at the withers, stick measured. He moves gracefully, straight and with purpose. Snow has produced spectacular foals with good bone and size, great minds and of color. Please visit www.wingedhawkwakonappaloosa.com for photos. Wakons Snow Leopard came to us from his proud breeder Marlene Ross of Wakon Appaloosas, Washington, USA. The Wakon Appaloosa farm is widely known for over 60 years of breeding some of the finest old foundation Appaloosa bloodlines for conformation, disposition, and rugged versatility and with intense Leopard and Blanket bloodlines.
Wakons Snow Leopard carries old Appaloosa foundation bloodlines including the famous Toby bloodlines (descendant of Sam Fisher stock of the Palouse tribe), and the famous Patchy and Knobby Bloodlines (descendant of the Guy Lamb Herd. Knobby being one of the most famous of the Palouse Country Appaloosa stallions), Simcoes Pataha, Storm Cloud, Red Eagle, Mansfields Commanche (one of the most influential sires in the early Appaloosa world, ApHc Hall of Fame), Prince Plaudit, Stud Spider, Old Painter, Lamb mare, Joker B, Leopard Cortez, and Morgan's Leopard, Double Six Domino (ApHc Hall of Fame 1988), Snowflake mare ApHc # F-2. Snow carries Sundance F500 (descendant of Chief Joseph's stock of the Nez Perce).
Outstanding foundation Quarter Horse bloodlines in his pedigree include Wimpy, Leo, Steel Dust, Solis, Tommy Clegg, Bert and Peter McCue.
During 2021 and 2022 breeding season, Wakons Snow Leopard is in Alberta, Canada, in pasture live cover with quality foundation Appaloosa mares.
For more information, be sure to follow Wakons Snow Leopard on Facebook and check out our Wing Hawk Appaloosa website at www.wingedhawkswakonappaloosa.com
Six Panel Tested Negative by Animal Genetics
Color and Pattern Testing: Ee, aa, neg for Cream, neg for Grey and neg for all other dilutes, n/LP, n/PATN1
$510 USD Live Cover only, with Live foal guarantee
Mare requirement for ASHDA Main Book Foal: As an Approved Cross stallion, Wakons Snow Leopard will be required to breed to a full draft mare that is registered or approved with the registry in order to produce an ASHDA Main Book foal. He is one of four living light breed stallions to have ASHDA Approval at this time.
Mare requirement for ASHDA Heritage Book Foal: A draft percentage Mare that is registered or approved by ASHDA registry prior to breeding in order to produce an ASHDA Heritage foal, for owners who prefer a horse of heavier bone and size, but not a full draft and heavier horse.
Mare requirements: Mare approval and testing required before booking include Negative Coggins, Negative Breeding Culture, 5 panel negative or breed specific negative testing, up to date on deworming and vaccinations. Pregnancy Ultrasound required after cover days 14 -18 check for confirmation of pregnancy.
Ad expires 01/01/2024