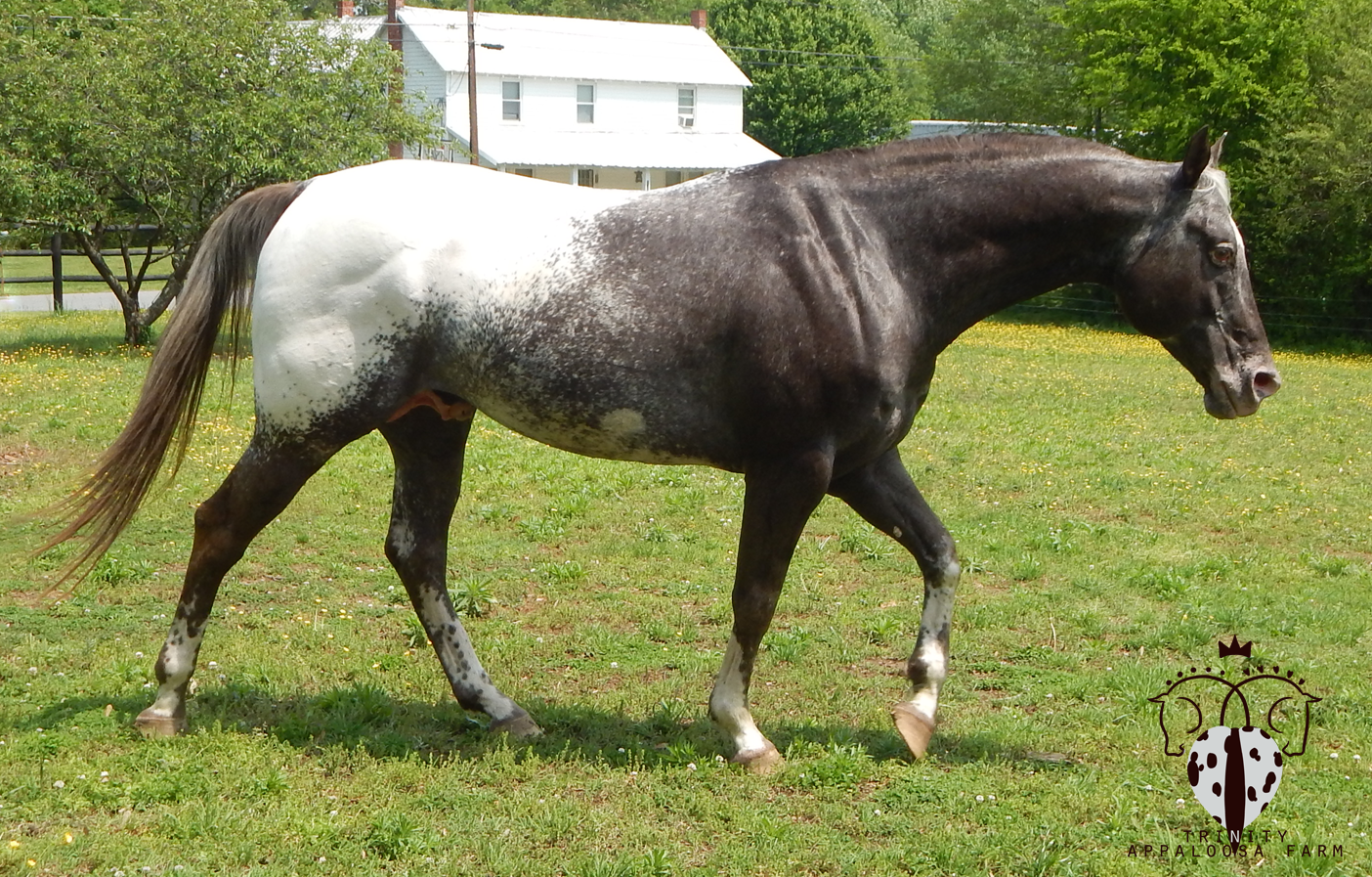 Heza Docolida
| | |
| --- | --- |
| Registries: | ApHC, SSB, ASHDA Approved Sire |
| Sire: | Colida SkipNTwist (ApHC, SSB) |
| Dam: | Chick Olena (ApHC) |
| Genetic Testing: | PSSM1 - N/N, GBED - N/N, HYPP - N/N, MH - N/N, HERDA - N/N, IMM - N/N |
| Stud Fee: | $800 USD |
| Location: | Brookneal, VA |
| Contact: | Trinity Appaloosa Farm by E-mail |
Description
Heza Docolida, 2007 snowcap ApHC stallion is standing to ASHDA Approved Dams and Registered Mares that will make a Main Book Registered foal (mare must be full draft) and to ASHDA Registered mares less than full draft for ASHDA Heritage foals.
He has wins in Conformation, Liberty, Costume, Western Pleasure, Trail, and Western Dressage. He comes from very versatile bloodlines with siblings competing and winning in WP, Halter, Saddleseat, HUS, Reining, Jumping, Speed and more!
"Ripley" has already sired some excellent foals with stellar conformation and his rock solid, easy going personality. This stallion is so quiet, we regularly have people check him to make sure. He was the 2015 CRHA Stallion Auction High Seller. He has been to Breyerfest, the NC/VA Horse Festival, the DC Cherry Blossom Parade and more, showcasing his incredible brains and personable nature.
7-panel N/N across the board, tested negative also for Agouti and is Ee for black. This stallion is super handsome, super correct, genetically clear and backed up with a pedigree full of greats like Doc Olena, Colida, Wapiti, Skip Bright and more.
Ripley is homozgyous for LP- or "appaloosa" coloring. When bred to your solid draft mares, he will produce LP characteristics every time! From snowflakes to full shoulder blankets, lighting marks and more, the possibilities are endless!
Ripley is available for onsite breeding at our farm in Virginia, and is also available for shipped, chilled semen.
Spotted Breeds Society's 2016 Summer Show Supreme Champion, as well as Best Stallion.
2017 ASHDA AC Year End Grand Champion
2017 ASHDA AC Western Performance Champion
2017 ASHDA Dressage Maestro
2017 ASHDA COA Dressage
2017 ACAAP Top 10 in Western Dressage
2020 ASHDA Winter Show AC High Point Champion
NAWD Star in Western Dressage
Ad expires 01/01/2024