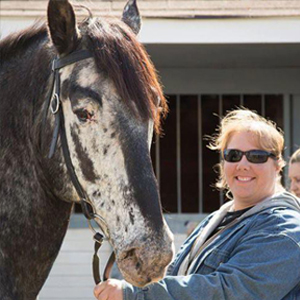 Howdy Y'all from the Great State of Texas!
My name is Rachel Fisher, and I am excited to serve as the Treasurer for the American Sugarbush Harlequin Draft Association. This group of talented and passionate women is hard at work with plans to for this new venture to grow and flourish. They wanted to honor the legacy of founder Everett Smith, using horses from the program he started, and use the types of horses that would complement these bloodlines.
In 2011, I was introduced to the noble, yet endangered breed- The Sugarbush Draft Horse. I learned how versatile these horses could be-from pulling carriages, to competing in dressage, and dependable trail mounts. They are intelligent, agile, and easy-going. While I do not personally own any of these horses, yet, I know that I will one day. I am happy to help promote the breed and support the owners anyway I can.
As for my background, professionally, I have worked for companies in various administrative positions. I have also been involved with non-profit organizations as a volunteer and grant development. I plan to bring this experience to help ASHDA become a successful organization.
I have a lifelong love of horses. You could say it's in my blood. My family has been around them in one way or another for generations. I was fortunate to have grown up with horses, and I still have my very first horse, a 25 year old AQHA mare that was a present for my 14th birthday. I never was a big show person. I mainly enjoyed trail riding and just enjoying nature from the saddle. I just want to have fun. Since becoming involved with the Sugarbush horses, I have done a little more to promote them. I helped with the 2013 North East Texas Equifest and rode Sugarbush Harley's Classic O in the Expo. I also showed him in the International Performance Horse Development Association as well as served as a ground handler at the 2013 Breyerfest.
I am excited for what the future holds for the American Sugarbush Harlequin Draft Association. I think the plans and ideas that are coming though will move the breed into the 21st century.
2014 is the Year of the Horse, and the Year of ASHDA!