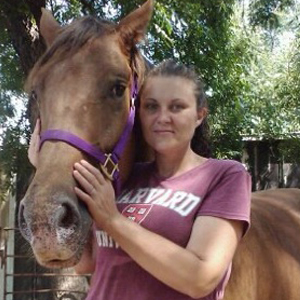 Greetings horse enthusiasts! I am Heather Crispin, director from territory 2 of the American Sugarbush Harlequin Draft Association. This new organization was put together several other like-minded people that wanted to preserve and breed forward the Sugarbush Harlequin Draft horse, as envisioned by Everett Smith. It is our goal to preserve the bloodlines he started and to expand the registry into a viable Association, with a show system, member benefits and public awareness. To this end we've come together, along with the lovely horses that make up the breed, and we formed an association for people interested in the American Sugarbush Harlequin Draft horse. I hope you'll join us and experience the wonderful breed we represent, and the family atmosphere we promote.I am very excited and proud to be the director from territory 2 and could not ask for a better group of board members to work with.
A little about me, I've been riding most of my life. I've had the chance to train and compete in Western Pleasure, English, Jumping, Dresasge and Eventing. I currently enjoy trail riding, showing in open shows and just riding around with my kids. My family's herd currently consists of 4 Sugarbush Harlequin Drafts and my son's big paint horse. I own and operate Livin' Large Farms in Venus, Texas, where we focus on breeding Sugarbush Harlequin Draft Horses. We have two ASHDA mares on our farm, our third mare is co-owned and resides with Stephanie Adame, we also have our junior stallion, LLF Double Down and we are proud to be boarding and standing another ASHDA junior stallion, He'za Big O Texas Star (owned by Stephanie Adame). We show our ASHDA horses under saddle as well as in halter. As a mother of 5, I like to focus on family friendly events. We allow our horses to participate in playdays, parades, birthday parties and carnivals.
My goals as the director from territory 2 are to help this breed grow, both in numbers and public awareness. There are so many disciplines where this wonderful breed will excel. As competitors they are level headed and powerful, as companions they are gentle and trustworthy and as eye-catching and uniquely marked horses they have a high market value. The American Sugarbush Harlequin Draft is, like the country where it was born, full of opportunities.