Warhorse Vegas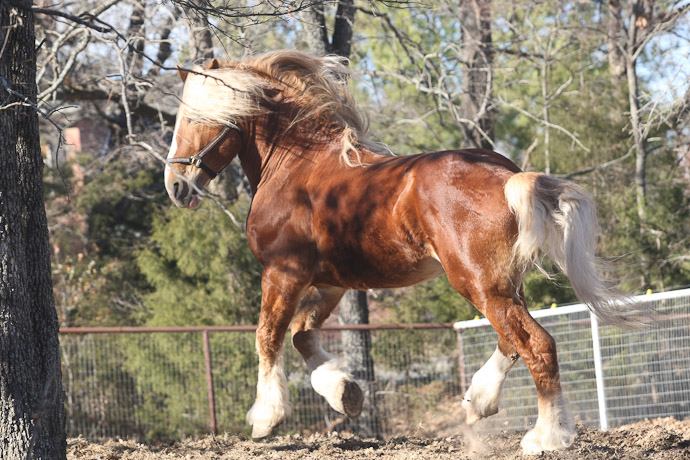 | | |
| --- | --- |
| Registries: | ASDHA (I-00038), BDHCA # S55096 |
| Sire: | Willow Creek Vegas (BDHCA) |
| Dam: | Greentop Trish (BDHCA) |
| Genetic Testing: | PSSM1 - N/N, JEB1 - N/N |
| Stud Fee: | $650 USD |
| Location: | Terrell, TX |
| Contact: | Double M Warhose Ranch by E-mail |
Description
Warhorse Vegas is an 18.2hh Belgian Draft Horse Registered with the Belgian Draft Corp of America and registered with ASHDA as an Improvement Stallion.
He was the 2012 Star Of Texas Best Belgian Stallion, and Best in Show in Austin Texas for their 75th Anniversary Show. He was also featured on "Gentle Giants RFDTV Show" with Pam Minick for their first season. He has attend shows for Tractor Supply, Texas A and M, and Equifest. He is friendly, and always draws a crowd. His good looks, conformation, and mannerism are always the first thing you notice about him as well as his size.
He was born May 6th, 1997 and is JEB Neg and PSSM1 Neg. His babies are smart, correct, and have the famous thick hair and beautiful coloring. He has been crossed with QH, TB, TWH, and SB for Sport Horses. His offspring grace many Competition Hitch Teams for the National 6 Horse Hitch Teams which also was featured on Live TV for the Million Dollar Year End winning finals for RFDTV. His babies win at local shows and national levels. We are so very lucky to have this guy here in Texas to carry on his lineage. He will be featured again in the year end Belgian Review for his contributions to his Breed as well as his offspring.
Photo Gallery